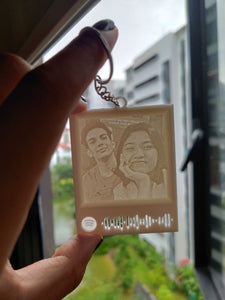 Convert a special moment and a song or custom playlist into a keychain that you can carry anywhere with you. Perfect as a unique gift to a loved one or as a memento, especially for Valentine's or Anniversary!

Simply > Make your playlist, or choose a special song for your partner, send us the Spotify link and your image, and await your keychain!

For users > Go to search on Spotify, click the camera icon to scan the code (Next to search bar)

Max width: 6cm (width) x 8cm (height)

Made with sustainable and biodegradable PLA plastic and sourced from renewable corn starch, they are eco-friendly and ideal for pet and nature lovers!